Courtney Reed, "Moulin Rouge!" bring the hits to SF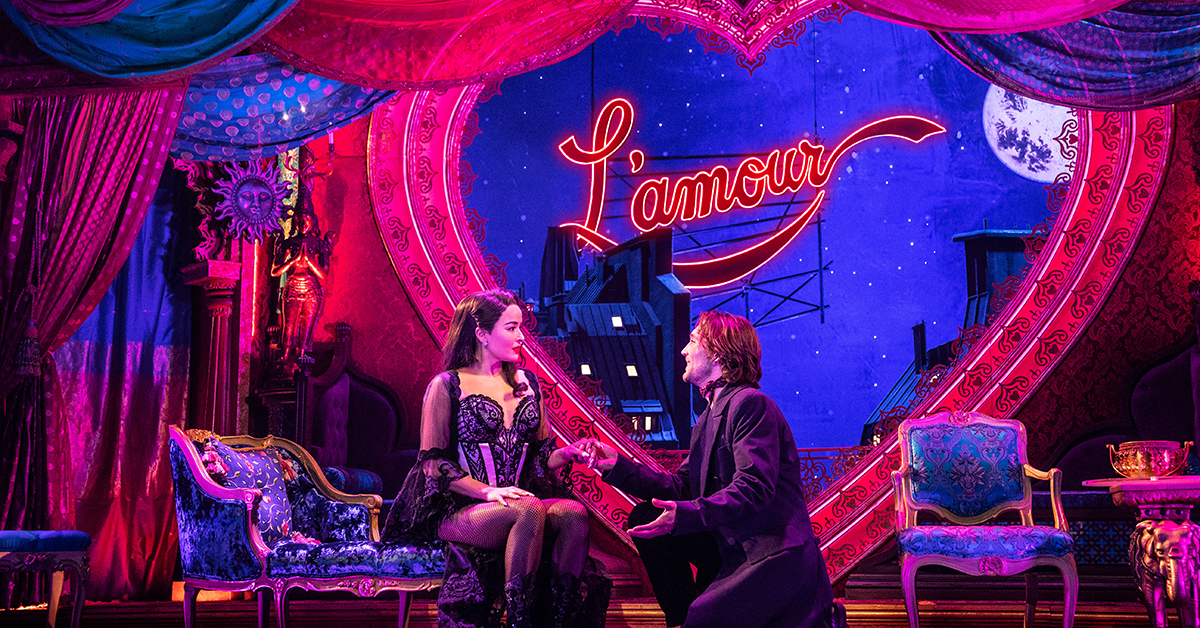 Broadway actress and singer Courtney Roseau notes several particular similarities between her most famous role – that of the first Princess Jasmine in Broadway's "Aladdin" – and her current starring role as Satine in the first touring version of "Moulin Rouge! The Musical.
"Moulin Rouge! The Musical"
From September 8 to November 6
Orpheum Theater, 1192 Market St., San Francisco
Tickets: $61 to $226. Recommended from 12 years old. No children under 5 allowed.
For starters, the two characters live in Moroccan-themed penthouses with a balcony through which their love interest arrives. And in both cases, Reed's characters are asked a question: "Do you trust me?" In the Disney production, it's Aladdin who asks. But in "Moulin Rouge!" he's the wicked Duke of Monroth.
The answer is different, but both characters are strong and independent, Reed explains.
"I think Jasmine is a bit more open than Satine, because Jasmine was very privileged, and Satine wasn't," says Reed from Los Angeles, where production is ending before moving north to the Orpheum Theater and BroadwaySF in San Francisco.
Baz Luhrmann's 2001 hit film "Moulin Rouge!" reinvigorated the musical film genre, but it took nearly two decades to hit the scene, updated with even greater pop success. This time the story of truth, beauty, freedom and love was directed by Alex Timbers with a book by John Logan, arrangements by Justin Levine and choreography by Sonya Tayeh, all winners of Tony. But shortly after opening in 2019, it was closed by the pandemic. At last year's Tony Awards, it won 10 awards, including Best Musical.
He is now back on Broadway and on his first national tour (planned before the pandemic), playing at the Orpheum Theater from September 8 to November 6.
This stage adaptation also stars Conor Ryan as Christian, the young composer who falls in love with Satine in 1890s Paris Montmartre, Austin Durant as Harold Zidler, the owner of the titular cabaret, failing the Moulin Rouge, André Ward as bohemian artist Toulouse-Lautrec. and Gabe Martinez as Santiago (who takes Christian into their world) and David Harris as the Duke, who puts the vice on Christian and Zidler to give up Satine or lose the famed Moulin Rouge.
Reed says that, like many in the Broadway community, she became a huge fan of the film, repeatedly watching it with friends and listening to the soundtrack nonstop.
"I think our community hung on to that movie and felt we had to make it a Broadway musical for years and years," she says. "He has a special place in my heart for sure."
Reed, 38, has been performing since she was a child growing up in the Chicago area, with her break in 2001 when she was cast as a backup actress and understudy in "Mamma Mia!" She was also a stand-in and understudy on Broadway in "In The Heights", performing numerous roles. Reed originated Jasmine before "Aladdin" even hit Broadway.
His performance on the original production cast recording earned him a Grammy nomination.
"It was huge for me! I had no idea musical theater albums had to be nominated," Reed says.
Self-deprecatingly, she explains that Jasmine's role was too small for a Tony nomination and how Jasmine is the only Disney princess with a story not based on her. But the Grammy nomination was special and unexpected.
In March, Reed and company opened "Moulin Rouge! The Musical" in his hometown.
The adaptation keeps the film's plot intact but updates the songbook with many newer pop standards.
"Even the 'Moulin Rouge!' Baz-Luhrmann-obsessed cult classic fans really love the musical because, I think, what this creative team has done is kind of infuse a lot of these new songs that are very familiar to everyone," says Reid. "We have Britney Spears and Rihanna and Katy Perry and Lady Gaga songs, so we have so many really familiar hits. And then, of course, we have a lot of the same movie classics, so we have 'Come What May', Elton John's 'Your Song'…the 'Elephant Love Medley'; so you get the best of all worlds, really.
Two songs no longer in the script that Reed is sad to see go are "One Day I'll Fly Away", a 1980 song by Randy Crawford that was sung by Satine in the film; and Queen's "The Show Must Go On", sung by Zidler in the film.
These songs are not only replaced by new ones. The story is polished.
"But, you know, you get 'Bad Romance' and 'Firework' and all those amazing songs — and you still get 'Roxanne!'" Reed said.
In fact, the stage adaptation has about twice as many musical numbers as the film. Reed says she loves listening to Ryan (Christian) sing The Police's 'Roxanne' – 'Our Christian just happens to have one of the best voices on all of Broadway,' she gushed – she loves to duet with Ryan on Elton John's "Your Song" and the original number from the movie "Come What May".
As for the audience?
"'Bad Romance,' which is the climax of act two, earned us a standing ovation mid-show, which is really cool," Reed said. "The dancers are in these really awkward poses at the end… die. But it's worth it."
Like Nicole Kidman in the film, Reed sings another of her best moments, Shirley Bassey's "Diamonds Are Forever" and "Diamonds Are a Girl's Best Friend," popularized by Marilyn Monroe.
She performs the famous song while swinging from the rafters while other "fun stuff" happens that she doesn't want to spoil.
"Right off the bat, it's his number, and people cheer a lot when I start singing that song," Reed says.
Younger fans will enjoy the music of bands like Walk the Moon and the fun. and artists like Lorde. For fans of less bombastic indie music, Regina Spektor's "Fidelity" makes an appearance.
Reed has heard from friends that the audience loves to sing along with the cast, which the cast thankfully can't hear or it might turn the actors off. But that comes with the interactive nature of the show itself.
"Zidler talks a lot with the public; you have Christian, who sort of narrates some of the sections of the show," she says.
Modern pop and rock songs are more fun for Reed to sing, she says, citing that virtually everything she's appeared in on Broadway fits that mold, from "Mamma Mia!" (Abba) to "In the Heights" to "Aladdin", which have a lot of pop sensibility.
In 2020, she performed in the off-Broadway 'Cambodian Rock Band', about the Khmer Rouge genocide. Reed played both a Cambodian-American who returned to her father's home country to pursue a war criminal, learning her father's story along the way – and the singer of the titular 70s band , performing traditional songs as well as songs written by the very real rock band Dengue Fever.
"I sang in Cambodian, but it was a real rock band," she says. "Even though I don't have a super crazy rock voice, I've always been drawn to pop music. I love him so much."
Reed was able to check out many items on his to-do list, from his first starring role in "In the Heights," learning to lead a company of Lin Manuel Miranda and actors Javier Muñoz and Corbin Bleu, to being part of an original Broadway cast and recording of the original cast recording with "Aladdin".
"But when it comes to meaty roles, this ranks number one. Because [Satine is] really a real great lady," says Reed. "She runs the show. She can go through a wide range of emotions. I can do the comedy stuff that I really like to do, I can do the drama that I like to do, I can sing my favorite style of music. As an actress, this is an absolute dream role.
Follow editor Roman Gokhman on Twitter.com/RomiTheWriter.