Grammys 2022: BTS Hits the Red Carpet in Style as They Aim for FIRST Grammy Award Win for 'Butter' | K-pop Movie News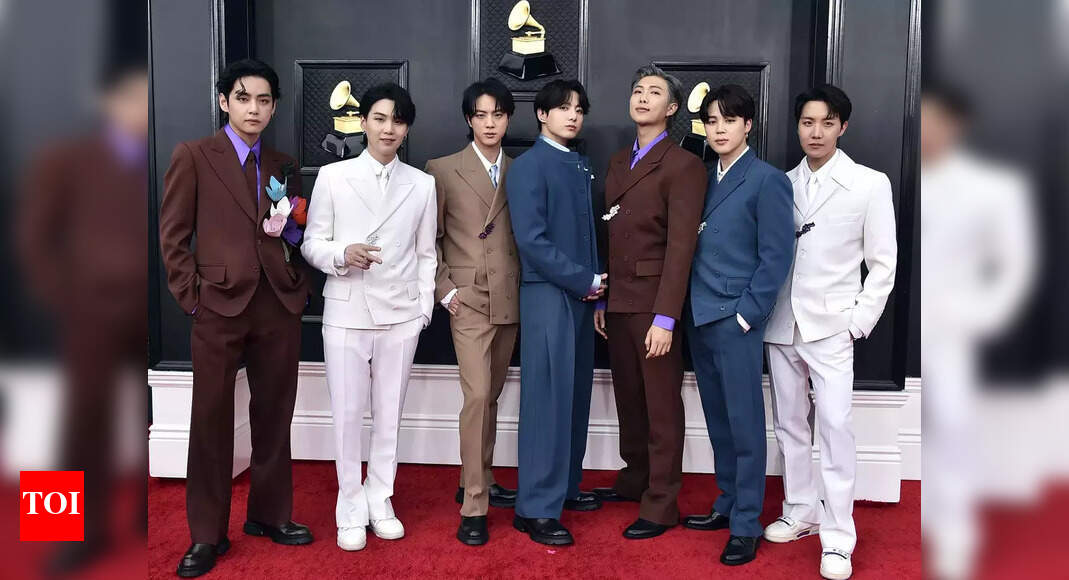 BTS arrived at the Grammy Awards in full force after band member Jungkook recently tested positive for COVID-19.
The seven members of the Korean megastar boy band walked the carpet dressed in custom Louis Vuitton suits with sneakers in a range of colors from bright white to muted blue.
#BTSArmy, are you accepting new members? What do you think @bts_bighit will sing tonight at the #GRAMMYs? https://t.co/NMqT3Fq9xZ

— Recording Academy / GRAMMYs (@RecordingAcad) 1649029767000
BTS has arrived at the #Grammys…it's not a drill! https://t.co/z0L5inB05Q https://t.co/ZLg3DmKpJX

— Variety (@Variety) 1649023273000
Permission to watch this #BTS Glambot 10000000000 times. #GRAMMYS https://t.co/8JvLjd7aTl

– E! News (@enews) 1649026561000
Dance is smoother than Butter Which #BTS member is the smoothest dancer in your book, #BTSArmy? #GRAMMYs… https://t.co/pC7EINAG9o

— Happy #GRAMMY Day! (@eentertainment) 1649026577000
V, stood out, all thanks to a bunch of giant floral pins.

This bear just hit different!!! I tell you!!!!! #bts #GRAMMYsTNT https://t.co/nWnn14qyKy

— rys (@mymoon_07) 1649030438000
i want to cry they are beautiful #BTS #GRAMMYsTNT https://t.co/SE0vxiZzsq

— fatima⁷ (@koostima) 1649030609000
Retweet + Reply!!#BTS #GRAMMYsTNT https://t.co/xUFP3kKMLT

—☀ᴍᴀʏᴍɪɴภรรยาตระกูลPark (@mayturtle1992) 1649030510000
BTS THE MAIN EVENT #BTS #GRAMMYsTNT https://t.co/Dv9HhNUh0C

— cess⁷ (@cesstwt_) 1649030573000
The band, who are nominated for their hit 'Butter', will also perform on the show.
Jungkook, was recently released from quarantine after testing positive for coronavirus. The 24-year-old singer, who tested positive for the virus on March 28 after arriving in Las Vegas for the awards show, was released from quarantine on Saturday.
"We would like to inform you that BTS member Jungkook has fully recovered from COVID-19 and his quarantine ended on Saturday, April 2 (PT). Jungkook is in self-quarantine and self-quarantine. been in treatment since last Sunday, March 27 (PT), and in accordance with guidelines from the United States health authorities, Jungkook can resume his daily activities starting today.He had a mild sore throat during quarantine but he got over it," BTS said. ", said the agency BigHit Music in a press release.
At the end of his quarantine, Jungkook took a rapid antigen test in the United States to join the Grammy Awards schedule.
"The result came back negative and the awards organizer has approved her entry into the Grammy Awards," the agency added.
BigHit Music also expressed sincere gratitude to the fans who worried about the artists' health.
"We will continue to place our highest priority on the health and safety of our artists and will cooperate fully with requests and directives from health authorities," he added in the statement.

Jungkook joins fellow members RM, Jin, Suga, J-Hope, Jimin and V for their first LIVE stage number at the Grammys. Last year, the boys performed their track "Dynamite" virtually from Seoul.
J-Hope, who also recovered from COVID-19 earlier this week, recently flew to the United States from his native South Korea to participate in music awards night activities.
After the Grammys, BTS is also set to perform at four shows at Allegiant Stadium in Las Vegas as part of their extended "Permission to Dance On Stage" tour.