Imagine Dragons withdraws hits for iHeartRadio album release party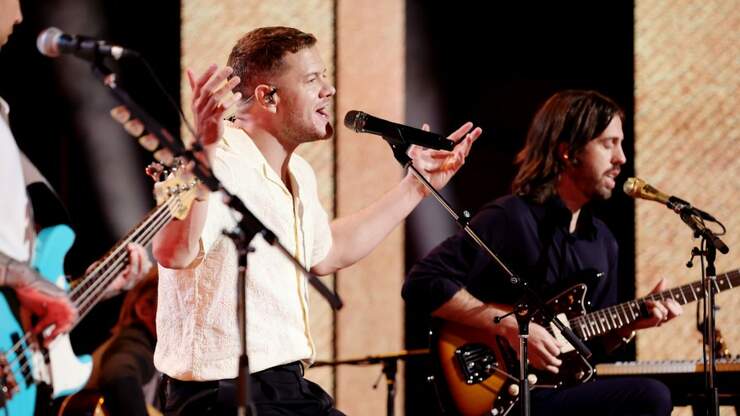 Live music is back and Imagine Dragons got their toes wet with their iHeartRadio Album Release Party on the occasion of their fifth studio LP, Mercury – Act 1, Wednesday evening (September 8).
During the 60-minute show, available to stream on LiveXLive, LiveXLive.com or the LiveXLive app, Dan Reynolds, Wayne's Sermon, Ben McKee, Daniel platzman, as well as an accompanying musician on the piano keys, Elliot Schwartzman, sat on stage and went through a number of stripped-down versions of tracks from their new album, including Reynolds' ode to his wife, Aja Volkman, "Follow You", "My Life", "Wrecked" and the set's closing track, "One Day". However, the quintet started off with an acoustic rendition of a song that all audiences have known for years: "Believer".
Speaking of the 2018 follow-up Origins, Reynolds said the 13-track collection just released is full of moments of highs and lows. "We wanted this record to make you smile. That was our goal with it. It's not always a happy record, but there are moments of happiness, right? That's how life is," a- he told iHeartRadio. Booker in front of the live (and virtual) audience. "You cannot feel happiness unless you feel sadness."
As the show continued and fans were treated to stripped-down versions of their hits, Booker asked if most of their songs were created from this place of simplicity. Reynolds pointed out that part of the development of his catalog is based on his love for great songs. "I'm a 90s kid. I listened to a lot of hip-hop and listened to a lot of great 90s ballads by these powerful women," he said, explaining his love for massive songs. . "If you've really listened to the '90s, they were really led by powerful women singing these scary songs."