Little River Band concert serves as fundraiser for flood victims | New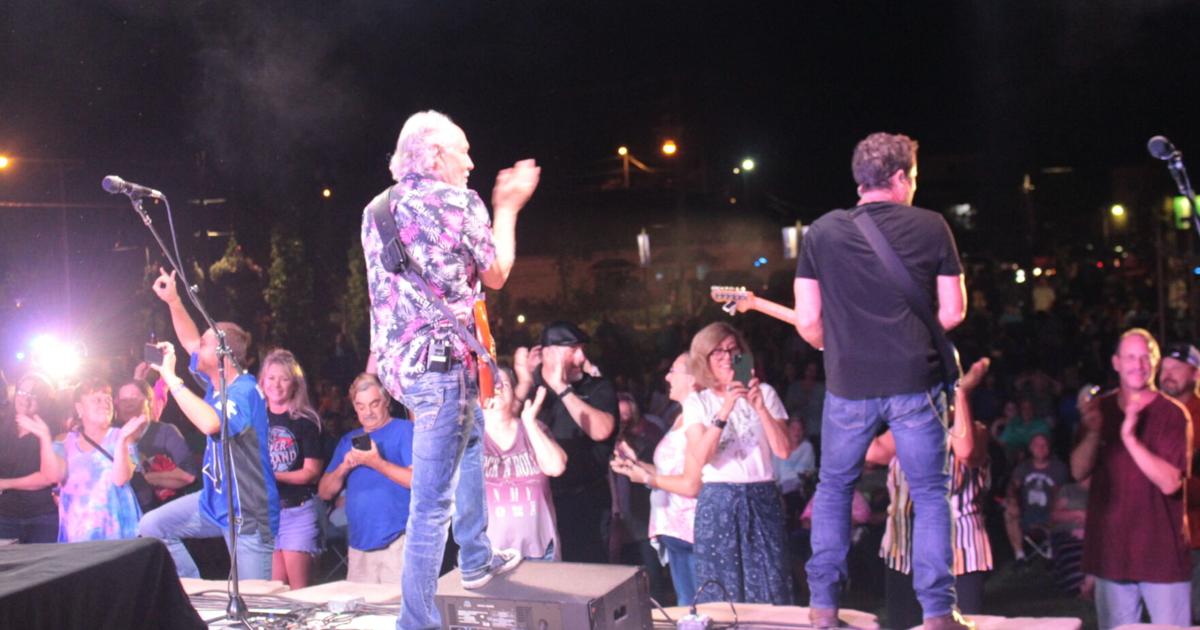 The rain clouds that have dominated the sky for the past two weeks finally moved Friday evening, creating the perfect backdrop for August's downtown concert series.
A large crowd gathered for Friday's music festival, which kicked off with local artists The Worley Bros., consisting of brother Ethan and Andrew Worley and keyboardist Jordan Yaden.
The brothers performed several original songs, some of which were written while performing as Frontier and West Wind Drive. Other selections were newer pennings as well as crowd-favorite pop and rock songs.
Little River Band took the stage at 8:30 p.m. with a large crowd gathered on chairs, blankets and on the rock walls lining the walkways of the downtown park as spectators drifted towards the half-dozen food vendors and drinks gathered in the alley between the park and the London Elementary School.
Little River Band opened with an audience favorite, "Long Way to Where I'm Going", and performed many of their greatest hits – "Reminiscing", "Night Owl" and "Man on Your Mind". As the evening of entertainment ended, the crowd surged to stand in front of the stage to shake hands with the band members and joined in singing "Lonesome Loser" as the finale which left the crowd in applause.
The event also served as a fundraiser for the Eastern Kentucky Flood Relief Fund, coordinated by United Way of Laurel County. The local United Way has pledged to match donations raised Friday night up to $10,000. At the end of the evening, it was announced that "over $5,000" had been raised during the one-night fundraising effort – once again showing the true spirit of Kentuckians and the community Laurel.
September's Town Concert Series will feature two consecutive weekends of music. The Labor Day Weekend Bash kicks off Saturday night, September 3 with a triple header of music that starts an hour earlier than usual. Tone Control opens the show at 6 p.m., with Paint Creek starting its show at 7 p.m. My Finest Hour wraps up the performances, taking the stage at 8:30 p.m.
The 2022 concert series finale will take place on Friday, September 9 – again a homegrown talent triple-header featuring Tyler Evans, County Wide and Sneaky Pete.