Music video features upstate New York first responders
---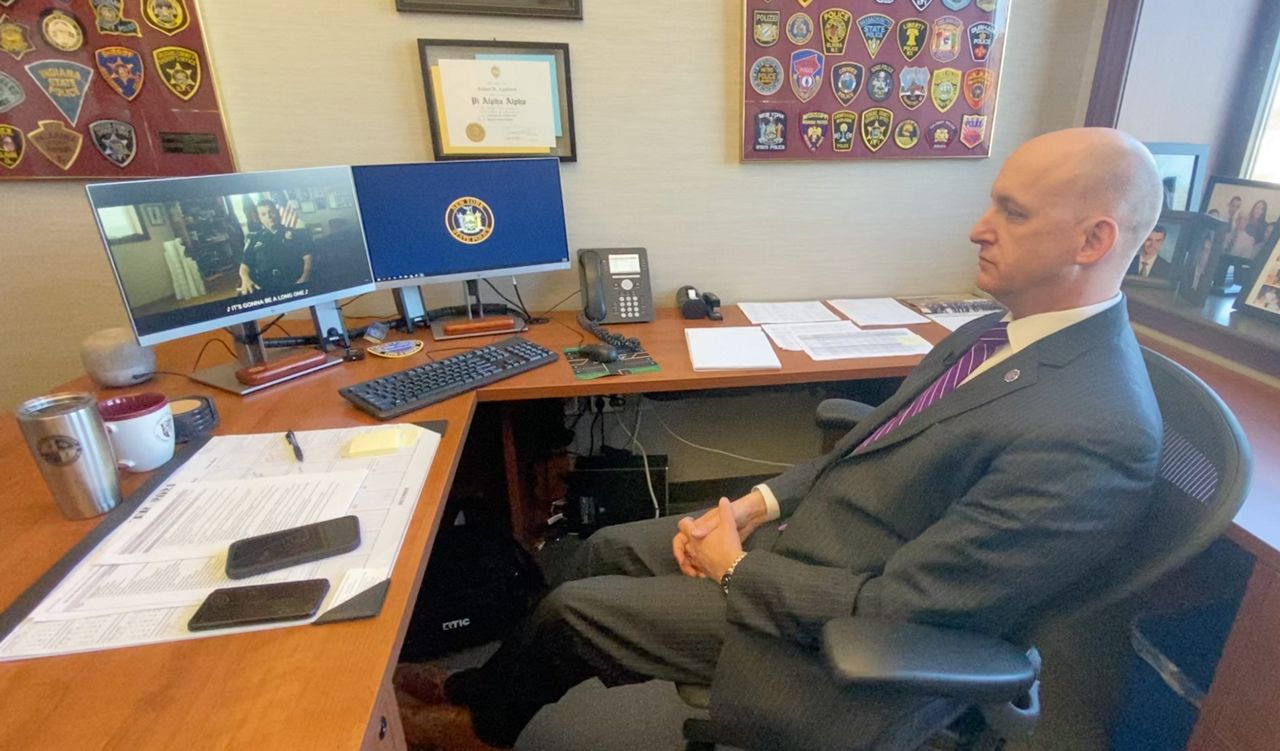 [ad_1]
One recent afternoon Saugerties Police Chief Joseph Sinagra sat in his office and reflected on the start of his career in law enforcement.
"It looks like it was yesterday when I took these photos, then I look at the dates and realize how long ago, over 30 years ago, it's mind-boggling," Sinagra said as he looked at some of the pictures. of the many photos displayed on the wall. "I wanted to be a cop because of my dad, number one. He introduced this seed when I was a little child.
New York State Police Captain Rob Appleton also followed his father into the field.
"It was really early and a lot of my friends wanted it too," Appleton said. "The shiny black boots, the car in the driveway."
A retired state soldier who now works as a firefighter in Saugerties, Stan O'Dell had no law enforcement officers in his family, but he says a meeting with state police left him interested from an early age.
"The way they treated me with respect and it marked me," he said.
Besides being inspired by role models, everyone says they are driven by the desire to serve.
"I wanted to be one of those, I want to help others and be there for them," O'Dell said.
"At the end of the day, we really want to help people," Sinagra said.
"I mean, it's really about selflessness, service before self," Appleton said.
In addition to spending decades wearing a badge, every man now shares a new honor. They are among dozen of officers and first responders from across the country featured in a new music video from country music legend George Strait.
"It's something I never expected to be a part of," O'Dell said.
"I couldn't wear an air if it was on my back," Appleton joked. "So I wasn't going to be in any type of music video that I've ever seen in my life. "
Each was invited because of their work with the First Responders Children's Foundation, which provides Christmas gifts to children in need who are linked in some way to first responders.
"This is the greatest gift for all of us," said Appleton. "If you get a smile from a kid who maybe hasn't had the chance to get something like this, that's what makes this job worth it. "
The video is a remake of Strait's song "The Weight of the Badge". As well as presenting the officers as ordinary people, it also highlights the burdens facing their families. Both Appleton's wife and father were questioned.
"Being able to share this with your family has been the greatest reward for me," said Appleton.
"I think what George Strait was looking for was an opportunity for people to realize that the police, we are people, we are human beings and we have feelings," Sinagra said.
Like many in his field, Sinagra says law enforcement was considered a noble profession for most of his career, but especially since George Floyd's death at the hands of the Minneapolis Police Department, the tenor has changed.
"All of a sudden this perception of the police and our profession as being noble is suddenly vilified," he said.
"We have a bad person that everyone has to pay for now," O'Dell said. "I'm not saying he's the only bad person, but it's a very small percentage."
Everyone knows that it will take much more than a clip to restore confidence in their profession.
"We have to understand that part of that weight is that we have to take responsibility and recognize that part of this negative reputation is our fault," Appleton said.
Sinagra says he hopes the song's message will help bridge the gaps with the communities they serve.
"If we can really show people who we are, the tide will turn and people will realize that our law enforcement agencies are really there to help us and not to hurt us," he said.
[ad_2]