NLFB unveil lineup for 50th summer festival, headliners include The New Pornographers, Judy Collins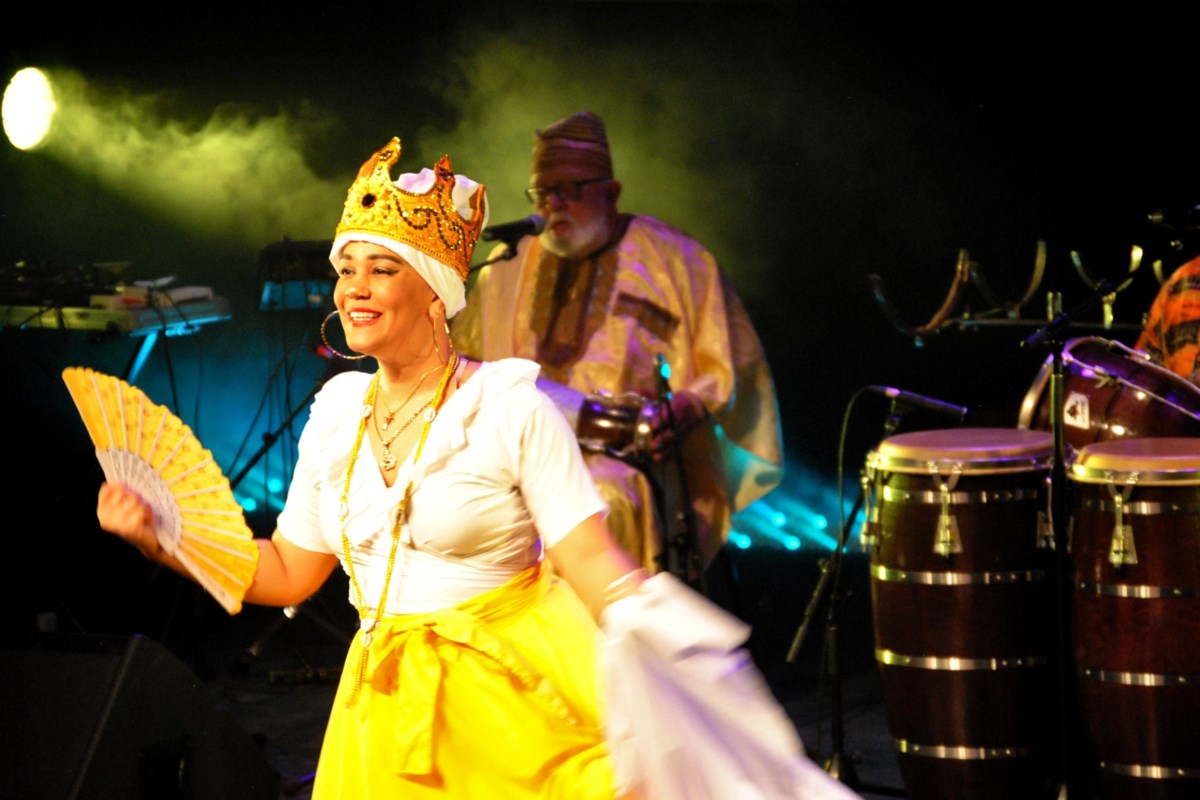 The local festival had to cancel its traditional summer event due to COVID in 2020 and 2021
Northern Lights Festival Boréal kicked off the programming for its 50th anniversary summer folk festival with a musical reception at Collège Boréal on Saturday evening.
Headliners for this year's festival, which runs July 7-10 in Bell Park, will include The New Pornographers, Bombino and Judy Collins.
The Sudbury Festival began in 1972 as a one-day event called Northern Lights Folk
Festival. It has grown and evolved over the years to become Northern Ontario's premier music and arts festival.
Sadly, the NLFB July Festival had to be canceled due to COVID-19 in both 2020 and 2021, although organizers managed to squeak out a mini-festival in September 2021.
Organizers are urging festival goers to secure full passes before Monday when prices rise. Individual all-day passes go on sale Friday.
Headlining Thursday, July 7 will be hugely influential indie-rock supergroup The New Pornographers.
Among the most enduring and compelling indie rock bands in the world, the band have released eight albums to date, including their highly acclaimed 2019 album In the Morse Code of Brake Lights. They've won and been nominated for numerous awards, including the Juno Awards, the Polaris Award, and more. They have appeared on countless "best of" lists, including Rolling Stone's "100 Best Albums of the Decade". The group has also served as a springboard for many successful and inspiring solo careers: Neko Case, Destroyer, AC Newman, etc.
2019's In the Morse Code of Brake Lights was widely hailed as another groundbreaking album, cementing the band's reputation as a band that continues to innovate, elevate and make bold statements. There is a deep climatic malaise that runs through the 11 tracks of the album, matched only by the sheer musical joy with which the band approaches the dominant mood of the moment. It's an album in which trepidation and bliss somehow go hand in hand – blending founder AC Newman's almost symphonic levels of pop arrangement and harmony with a
fairing quality that feels unsafe at any speed. NLFB is beyond excited to present The New Pornographers for their very first appearance in the region.
Grammy-nominated artist Bombino headlines Friday, July 8.
Bombino is a Tuareg singer and guitarist whose hypnotic electric guitar style has captivated the world. The Tuareg are a nomadic people descended from the Berbers of North Africa and have fought for centuries against colonialism and the imposition of a strict Islamic regime.
The Rolling Stones, Arcade Fire and Queens of the Stone Age are all avowed fans of this 2018 Grammy nominee. magnificently its Saharan culture.
Dan Auerbach of The Black Keys was so blown away by Bombino's sound that he ended up producing his 2013 album Nomad, which debuted at No. 1 on the Billboard and iTunes world music charts. The most recent full album, Deran, was nominated for a Grammy, making him the first Nigerian artist to be nominated, greeted by a crowd of cheering fans upon his return to his homeland.
Closing the main stage of the festival on Sunday July 10 will be renowned American folk artist Judy Collins.
Collins inspired audiences with a sublime voice, boldly vulnerable songwriting, personal triumphs, and a steadfast commitment to social activism. In the 1960s, it evokes both the idealism and the steely determination of a generation united against social and environmental injustice.
Five decades later, his luminescent presence shines brightly as new generations bask in the glow of his iconic 50-album oeuvre and draw inspiration from his spiritual discipline to thrive in the music industry for half a year. century.
The award-winning singer-songwriter is loved for her imaginative interpretations of traditional and contemporary folk standards and for her own poetically poignant original compositions.
Her stunning rendition of Joni Mitchell's "Both Sides Now" from her seminal 1967 album, Wildflowers, was inducted into the Grammy Hall of Fame. Judy's dreamy, sweetly intimate version of "Send in the Clowns," a ballad written by Stephen Sondheim for the Broadway musical A Little Night Music, won "Song of the Year" at the 1975 Grammy Awards.
She has achieved several top ten hits, as well as gold and platinum albums. In the 1960s, Judy became a tastemaker within the thriving folk community of Greenwich Village, bringing other singer-songwriters to a wider audience, including poet/musician Leonard Cohen, Joni Mitchell and Randy Newman. Throughout the 60s, 70s, 80s, 90s and into the present day, she has remained a staple artist, adding to her catalog of critically acclaimed albums while balancing a strong touring schedule.
A variety of special retrospective programs are planned for the 50th celebration, including the appearance of "festival favourites" from over the years.
In that spirit, renowned French-speaking singer-songwriter Robert Paquette will make a return to the festival, having played the very first edition in 1972. Another favorite, Lillian Allen, will return – Juno winner and celebrity patron international dub lyricism, rap and spoken word
poetry. Also at the NLFB will be Canadian folk musician and producer Ian Tamblyn, recently named to the Order of Canada for his art and activism.
Paul Collins will also appear on NLFB stages. Collins is a rock n' roll icon, power-pop sound pioneer and cult favorite, debuting with Peter Case and Jack Lee in 1974. Their influential band The Nerves toured with The Ramones and recorded a song called "Hanging On The Telephone," went on to be a Blondie hit that featured it on their album, Parallel Lines. Collins formed The Beat in 1977, recruiting members from various rock bands to create a high-energy band in the style of the Ramones, Blondie and The Dictators Whether it's with Paul
Collins' Beat, or solo, Collins has pursued an active and influential career releasing touring records. For this special performance in Sudbury, Ontario, Paul Collins' band will consist of power-pop group Dany Laj & The Looks.
This exclusive show features Sudbury's beloved rock 'n' roll trio as their hero and friend's rhythm section, live on the NLFB's main stage.
Legendary Los Angeles hip-hop artist and founder of Freestyle Fellowship, Myka 9 will also be at the festival. Myka 9 was instrumental in what became the California underground scene, centered around the Good Life Cafe in the early 90s.
Today, Myka defends her lyrical style often imitated and never reproduced all over the world. He is known for his often fast-paced, jazz-influenced melodic rapping, and often incorporates vocals and the occasional scatting into his songs. Myka said of her style, "My rhymes take the direction of a jazz trumpet or a sax solo, like Miles or Trane, if I were to rhyme in the same meter as those notes…that's my concept."
The NLFB is delighted to welcome back the Balkan-klezmer, party-punk and superband supergroup Lemon Bucket Orkestra from Toronto, who impressed audiences at the festival in 2014. Both exhilaratingly precise and a reckless abandon, LBO's live shows are a truly immersive experience – ranging from ecstatic to cathartic and everything in between.
Also in attendance will be Haitian American multi-instrumentalist, cellist, banjo player, singer and activist Leyla McCalla, from New Orleans.
Known to many as a member of the Grammy-nominated band Carolina Chocolate Drops, or Our Native Daughters, McCalla delves deep into her Haitian heritage on her remarkable new album Breaking The Thermometer.
The full lineup to date is available online at nlfb.ca/artists, which also includes: Casper Skulls, Toronto-Sudbury indie rock turned electric folk; Senegalese griot and kora player Zal Sissokho; Juno Award-winning Cree roots-soul artist Celeigh Cardinal; Sudbury folk-country singer-songwriter Julie Katrinette; Montreal starters Clay and Friends; and much more.
Many other artists have also been announced (you can see them at nlfb.ca/artists).
There are also other acts yet to be announced, plus: historical activities, visual arts, artisans and vendors, food offerings, creative family activities, after-hours club shows, and Moreover.
Full festival passes are currently available at Early Bird pricing for a very limited time. On Monday, March 21 at 5 p.m., prices will increase. Passes for specific days are also on sale.
Passes are available online at nlfb.ca/tickets.