Pacquiao announces retirement in bizarre half-campaign, half-music video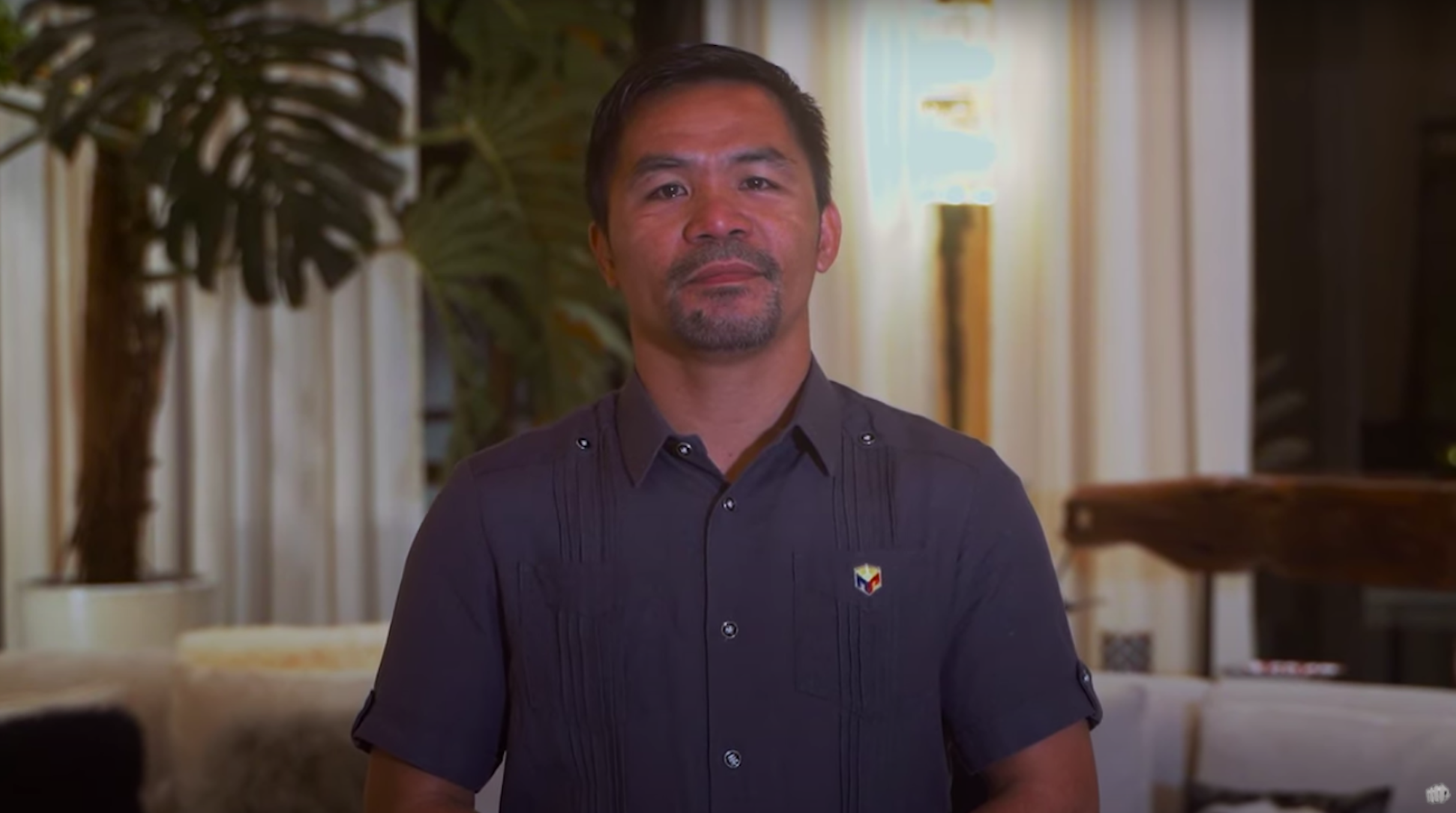 Boxing icon and Filipino Senator Manny Pacquiao was moved when he announced his retirement from the sport in a 14-minute video. Photo: screenshot of the video
Approaching an empty ring, the camera walks through the doors of the dimly lit Pacman Wild Card Gym in Hollywood. Orchestral strings crescendo in a poignant score worthy of a tragic film scene.
It shows professional boxer Manny Pacquiao himself in an elegant living room with his hands clasped in front of him. At the signal, he steps towards the camera and begins his message. A very long emotional message set to music for over 14 minutes, to be exact.
"Boxing has always been my passion. I have had the opportunity to represent the Philippines, to bring glory and honor to my country every time I step into the ring. I'm grateful for all of my accomplishments and the opportunity to inspire fans, "Pacquiao said in the now-viral video, released ten days after confirming his candidacy for President of the Philippines in elections slated for 2022.
He then launched into three minutes of thanks and dedications to the people and families who helped him along the way, citing around forty names, not to mention his family, the (very large) village he took. from poor village boy to world boxing icon. As he thanked his patrons and supporters, a montage of photos showed his hungry years as a trainee fighter throughout his early successes.
Special mentions included his uncle Sardo Mejia, coach Freddie Roach, promoter Bob Arum and a handful of influential political families.
Visibly moved, he thanked the media, his fans and God.
"Who would have thought that Manny Pacquiao would end up with 12 major world titles in eight different weight divisions? Said Pacquiao. "Even I am amazed at what I did."
Faded photos and grainy videos of a skinny young Pacquiao in makeshift training gyms and amateur arenas contrast with glitzy snaps of his international wins and paparazzi shots of him surrounded by his entourage, being stalked by fans. .
He's come a long way, and 8 minutes into the video's start, 42-year-old Pacquiao finally made his pivotal announcement.
"It's hard for me to accept that my time as a boxer is over. Today I'm announcing my retirement. I never thought that day would come. As I hang up my boxing gloves, I hold on. to thank the whole world, especially the Filipino people, for their support of Manny Pacquiao, "he said.
"Goodbye, boxing. Thank you for changing my life, "he added, as scenes from his early battles and victories showed the small town rookie turning into a champion.
Still thanking the sport for bringing him and his family in rags to wealth, Pacquiao's voice clings as he tears itself apart.
"I just heard the final bell," he said. "Boxing is over," he added in Filipino.
Saying a final "thank you," Pacquiao comes out of the screen, sniffing and wiping away a tear with his clenched fist.
But the video doesn't end there.
With over 4 minutes remaining on the timeline, it transforms into a hard-hitting R&B anthem with a chorus in Filipino that translates to "One Pacquiao for the nation", a catchy, campaign-like song.
The music video is a quick sequence through Pacquiao's work and triumphs, interspersed with scenes of his Filipino fans in crowded stadiums, on street corners and in their living rooms, mesmerized by their hero's biting matches and stunts in as a politician.
The lyrics are about overcoming obstacles, highlighting Pacquiao's Cinderella story, the Filipino equivalent of the American Dream.
The long farewell is a melodramatic roller coaster ride befitting his unprecedented boxing career and his upcoming campaign for the presidency.
The elaborate announcement did not take the sports world by surprise; Pacquiao had hinted at a possible retirement even before losing his last fight to Cuban champion Yordenis Ugas in August. Yet global tributes have poured in from the boxing industry.
"Pound for pound, one of the greatest to ever enter the ring" ESPN said in a Tweeter.
"It was our honor to be your promoter. We only wish you the best retirement, "said Top Rank Boxing in tweeted a photo of Arum hugging Pacquiao after one of his fights. He also published a "highlight coil for ages.
"Congratulations on a wonderful career, Pac Man", Illustrated sports said in a Tweeter.
Pacquiao was a colossal boxing champion, ending his career with 62 wins, 39 by KOs, eight losses and two draws. He became the oldest welterweight world champion in history in 2019, and the only one to have won the title four times. In 2010, Pacquiao won his candidacy for Congress in Sarangani Province and became a senator in 2016. In recent years, he has divided his time between boxing and politics.
Follow JC Gotinga on Twitter.